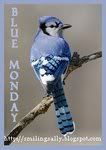 My come back entry for Blue Monday this week was taken just two days ago when I and hubby drove to an Island "Tjörn" more than 1 hour drive from Gothenburg. It was a fine day but we couldn't swim because the water is already cold.
Blue sky, blue, clean water and blue boats are perfect for Blue Monday.
I'm happy to be back here. Happy Monday.