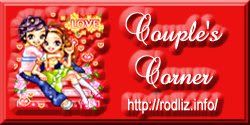 Last month topic's on Couples Corner was all about mother as honored to all mothers. This week is of course father since its father's day soon.
How could I describe my husband? Well only myself know what kind of husband he is. He's not a perfect husband but he's the answer of my perfect dream man. He's kind of perfectionist in some way. He wants full answers and full explanations if he wants something.
There were lots of things that I didn't know when we were still in Philippines. Directly I migrate here in Sweden and live with him, goodness I'm not even half of knowing him. His talkative (only with me), mahilig mag comment ng kung ano ano na minsan wala nang sense. Mahilig kumain (obvious naman diba), mahilig mag hot bath na minsan inaabot ng 4 hours sa bathroom. Kunsabagay bathing is his one way of realaxing from a heavy day at work. There are lots of things that I thought hindi siya ganon. Sometime funny, exciting pero it comes to the point na irritating na. Nakakainis na.Hahaha
But generally, he's a good husband. Not romantic as some other I knew, but he's romantic in his own way. Siguro ang magkaroon ng anak, ang isang bagay na lang na kulang sa buhay namin at complete and perfect na kami. Hayyyy Lord please!!!.
Happy CC couples!
my husband in Fort Santiago Manila 2006