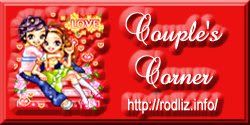 A son is Couple's Corner topic for this week.
I'm sorry but I don't know what kind of son is my husband.
When I met him 6 years ago, his parents passed away already. His daddy died a year before I met him and his mother died few months before I met him. So I didn't meet any of them. I don't know what kind of son he is to his parents. How wish I meet my in-laws…
But as I can see to their old pictures, they were so close. My husband is the youngest among 3 siblings. Seems that he was his father's favorite. My husband always on teary eyes every time we talk about his father. When he first saw his father lying on the floor without breathing makes him very emotional every time we talk.
His mother found two days after she died. She was lying on the floor too.
I know him as a brother. That would be another couple's corner topic. Good day.