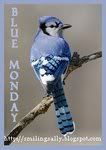 I had a very happy birthday celebrations last weekend.
I was born November 3 but I always celebrate every November 4. I had a busy and long celebrations this time. November 3, I went to church and attended a mass and after the mass I went directly to shopping for my birthday celebrations on the next day and Saturday.
By the way, these pictures I took inside the church are my
Blue Monday
entry for this week. Happy Monday everyone.