Blue Monday once again. Oh blue, blue, blue.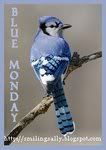 My entry for this week is my niece Aquinnah. This was taken last time I was in Philippines and it was my first time meeting our new angel. We were about to sleep. Playing in bed and reading her fairy tale books before going to sleep.
Have a good Monday everyone.