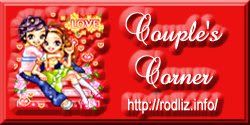 This week topic for Couples Corner is about "I, as a mother/ Aunt… According to my husband". This is the honor to mothers day month.
Well I cannot say what kind of mother I am according to my husband because I'm not yet a mother. I would love too but still I we don't have my own baby yet.
But being an aunt to my nephews and niece, i could tell I'm too much, hubby said.
When my sister Marlyn's baby boy "Marc" born, I took care of him like my own baby. I spoiled him and gave him the best love I could ever give. I was taking care of him like my own.
Then came another nephew Zheecky where I presented myself as his godmother. I wanted to be ONLY godmother but of course the parents of Zheecky couldn't say no to their friends.
Quin2x born November which I was very happy because it's almost same date as my birthday. When I found out that Gina was expecting a baby girl, all I thought was going to store here in Sweden and bought some stuff for her little girl. And suddenly the day of our flight, I forgot some stuff for my nephews because I was just excited for my first niece.
Am I too much as an aunt? Yes as my husband said. I'm doing everything for my angels and as my husband said, you're not their mother so back up a little. Hehehe but my reasons is always, "I'm just with them few days when we're in Philippines. SO let me do what I want to do".
As my husband said. "Dear, you can be a good mother because you love babies". Oh God please give us baby. One reason also why I studying to become a teacher is because I would love to work to kids.
SO mommies, I'm not yet a mommy but I wrote so many stuff about being an aunt. Am I just so eager to have my own. Happy mother's day to all mommies.