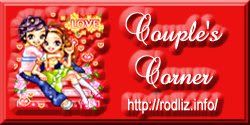 Couple Corner topic for this week is "Daughter". Me being a daughter.
Actually when I and hubby met, he knew directly that I am a good daughter. Hehehe. He didn't see anything that he didn't like being me as a person or daughter.
Until now, as he said, Dear you're the best daughter to mama. You're not perfect but, I know and I feel that you're good enough to your mother/parents.
Even if I'm very far from my mother, I make sure that I show, express and tell her all the time how much I love her. She's the best mama I know and whatever happened or if the world starts all over again, I would still choose my mother/my parents to be my mama/parents.
Sometimes, I asked myself, how I could be like my mother if I don't have my own baby. I mean, lots of my friends told me that you can just feel and knows what's the feeling of your mother when she gave birth and all the sacrifices until you become a mother too. It might be too simple to think but I know I cannot pay enough amounts to give thanks to my mother for taking care to all of us.
My father died 5 years ago. I know how much he loves us, proud of us and did everything to give us a brighter future. He's happy in heaven watching us here on earth.

Happy couple's corner everybody!!!