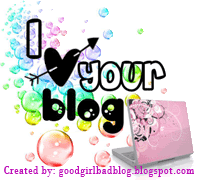 I *arrow-heart* Your Blog Award™ by Good.Girl
As usual my very good friend David gave me this award. I am very much thankfull and appreciated for everything from him. The friendship, for always remembering me, for giving an award and tagging me.

Here's just the simple rules:
1. The winner can put the logo on his/her awesome blog.
2. Link the person you received your award from.
3. Nominate at least 7 other blogs.
4. Put links of those blogs on yours.
5. Leave a message on the blogs of those you've nominated!
I will give this award to some of my blog friend namely: Shy, Weng, chell, Neverwinter, Survivorsmom, The mommy journey, and Ozzy's Mom. But ofcourse anyone can grab this award but i'm almost sure that no one will grab, hahaha...